The commune Sandhausen (Baden-Württemberg) got its name from the inland dune, which is located in the area of the village. In 2021 and 2022, the 3DGeo group of Heidelberg University conducted UAV-based and ground-based surveys of three areas of the inland dune of Sandhausen to acquire 3D point clouds and orthophotos. The dataset is freely and openly accessible on the PANGAEA data repository:
Weiser, Hannah; Winiwarter, Lukas; Zahs, Vivien; Weiser, Peter; Anders, Katharina; Höfle, Bernhard (2022): UAV-Photogrammetry, UAV laser scanning and terrestrial laser scanning point clouds of the inland dune in Sandhausen, Baden-Württemberg, Germany. PANGAEA, https://doi.org/10.1594/PANGAEA.949228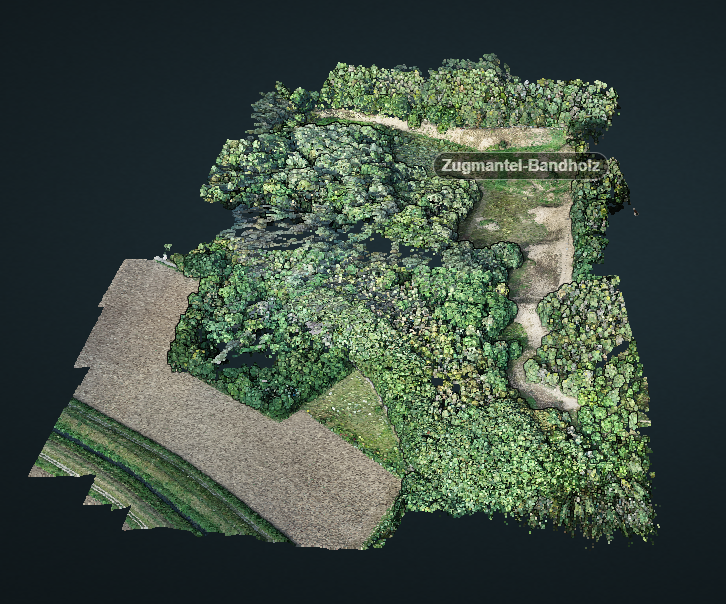 The inland dune formed during the last glacial period (Würm) by drifting sands from the Rhine Valley. The age of the dune is estimated at around 10,000 to 15,000 years. After glaciation, the dunes were forested and experienced little change for a while. Only in the High Medieval period, the dunes were partially deforested to do agriculture. Intensive use as pasture forest led to destruction in parts. In 1950, the areas were placed under nature protection. In the protected areas, the steppe vegetation could be preserved or re-established, which today is considered a botanical peculiarity and floristic rarity. The fauna of the inland dune is also remarkable and worthy of protection. Particularly among the insects, there are a number of specialists that otherwise occur only very rarely.
Different nature protection measures are undertaken, such as species registration and monitoring, mowing, grazing, or installing fences to limit disturbances. In particular, climate change with increasing heat and dry periods influences the characteristic of the dunes and leads to shift of Mediterranean species to Sandhausen but also loss of other species.
Our dataset captures the current state of the inland dune in 2021 and 2022, in particular the topography and vegetation cover in different seasons of the year. This supports the monitoring of the area and the improvement of protection measures. The products can also be helpful in public outreach and environmental education.
We surveyed three dune areas in Sandhausen:
Pferdstrieb Süd
Pflege Schönau
Our dataset encompasses:
UAV-based photogrammetric point clouds
UAV-based photogrammetric orthophotos
UAV images which were used to create the point clouds and orthophotos
Metadata on the images and the photogrammetric processing, including locations of ground control points
Terrestrial laser scanning point clouds
UAV-borne laser scanning point clouds
Check out the point clouds of Zugmantel-Bandholz in our
potree viewer
!