The fourth edition of the Innsbruck Summer School of Alpine Research took place in September 2022, finally back in the lovely mountain landscape of the Ötztal valley in Tyrol, Austria. Once again, 40 participants – young researchers from all over the world – gathered in Obergurgl to learn and exchange about new concepts and solutions for mapping and monitoring mountain environments undergoing continuous change.
This time, a news team from the Austrian ORF accompanied the field work and featured the summer school and techniques of 3D environmental monitoring in a story (in German): https://tirol.orf.at/stories/3176928/
The story was also streamed in this short TV video:
Link to video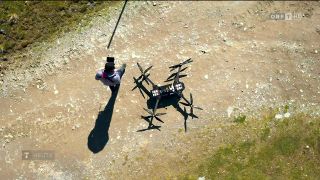 Find all the information on keynotes, lectures, and the participants' research topics in the proceedings:
Rutzinger, M., Anders, K., Bremer, M., Eltner, A., Höfle, B., Lindenbergh, R., Mayr, A., Oude Elberink, S., Pirotti, F., Tolksdorf, H. & Zieher, T. (2022): Sensing Mountains: Innsbruck Summer School of Alpine Research 2022 – Close Range Sensing Techniques in Alpine Terrain. pp. 1-130. DOI: 10.15203-99106-081-9.
If you are interested in participating in the next summer school in 2024, stay tuned for updates and find some more impressions on the summer schools in 2015, 2017 and 2019. On Twitter, you can follow us via #SensingMountains
The summer school organizing committee is thankful to all sponsors and the keynote speakers who made this exciting and successful event possible!