The Heidelberg Institute for Geoinformation Technology (HeiGIT) and the international humanitarian geospatial charity MapAction have signed a Memorandum of Understanding (MoU) outlining their plans to collaborate in a number of areas.
Both organisations share a common vision to support humanitarian mapping by providing innovative geoinformation services for humanitarian response, mitigating risk, anticipatory action and economic development. This includes developing up-to-date disaster maps based on OpenStreetMap (OSM) that can help humanitarian organisations to increase situational awareness and enable them to act quickly and in a targeted manner in the event of a crisis.
In order to fulfil these objectives, HeiGIT and MapAction will work together on various activities involving research and development, teaching, outreach and fundraising.
Examples of current and emerging services the organisations plan to jointly develop include OSM analytics such as Humanitarian OSM Stats, which provides detailed statistics about humanitarian mapping activities in OSM, as well as OSM data-quality assessment and improvement. Here, especially the ohsome quality analyst is of interest, which provides end users such as humanitarian organisations with information on the quality of OSM data for a specific region and use-case.
Further tools may include apps for crowdsourcing, data collection, navigation, routing and logistics services and machine-learning-based methods for data processing and enrichment.
They will also share knowledge, with MapAction contributing experiences aligned to HeiGIT's teaching curriculum, and HeiGIT, in return providing teaching materials and research results to MapAction.
---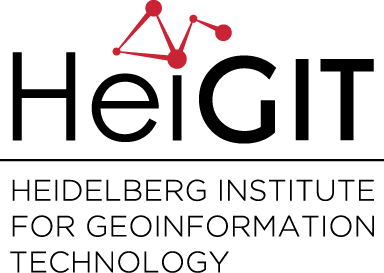 About HeiGIT
The Heidelberg Institute for Geoinformation Technology (HeiGIT) provides research and development to support decision making in the field of sustainable mobility and humanitarian aid.
The team closely cooperates with the GIScience Research Group, Heidelberg University. This cooperation enables HeiGIT to realize innovative state-of-the-art solutions, incorporating cutting-edge knowledge and technology from both academic research and real-life technology. The strong synergies of research and development at HeiGIT allows for forward-looking results of internationally acclaimed quality.
HeiGIT has a clear vision: Making significant contributions for the society and the environment by improving open geoinformation and geoinformation technology. Following this vision with a highly qualified team led to various significant humanitarian projects, such as MapSwipe or the Humanitarian OSM Stats, and close cooperations with internationally active humanitarian organisations such as the German Red Cross.
The research at HeiGIT focuses on three major topics:
Smart Location-based Services and Navigation: HeiGIT develops individual routing and navigation services to meet the specific and unique demands of individual users and regions. The developed web applications and APIs utilize the large resource of free, user-generated OpenStreetMap data, and serve a multitude of applications throughout the world.
Geoinformation for Humanitarian Aid: HeiGIT closely cooperates with international relief organizations to develop solutions and services for supporting humanitarian missions on the basis of data such as those provided by OpenStreetMap project or the Social Web.
Big Spatial Data Analytics: HeiGITs services and tools provide means for improved understanding of heterogeneous Web 2.0 data. The team utilizes spatial data mining and machine learning techniques to analyze, process, enrich, and visualize such data.
---
About MapAction
MapAction believes that applying geospatial expertise to humanitarian situations can greatly improve outcomes for the people affected. Many professionals want to donate their energy and skills to help. MapAction is the bridge which enables them to do so effectively.
MapAction is a non-profit organisation that collaborates with partners around the world to help anticipate, prepare for and respond to humanitarian emergencies. It strives to ensure governments, regional and local disaster management agencies and humanitarian responders have access to the information and analysis that they need to make key decisions, at the right times, to save lives and alleviate suffering.
The team consists of around 100 people, 75% of them skilled expert volunteers, plus a small roster of standby consultants. With more than 20 years of experience and learning gleaned from attending well over 100 different humanitarian emergency situations and supporting countless more remotely, it has developed a unique and continually requested range of capacities.
MapAction freely shares the knowledge it has acquired by teaching and training humanitarian coordinators to use maps and other geospatial products to help them make better decisions. It also helps put in place the systems, resources and data required to build resilience to disasters and protect vulnerable communities. And when major emergencies happen,it provides surge support to its partners at just 24 hours notice, enabling them to make sense of chaotic, dangerous and rapidly evolving situations and coordinate the most effective response.